NEWS
Welcome!
SOCSoter is a real-deal, comprehensive cybersecurity platform solution for Managed Service Providers (MSPs)!  We work with our MSP partners to secure networks, data and devices of small and mid-sized businesses!
We think our enterprise-level, 24/7, US-Based SOC exclusively serving the MSP Channel is an amazing platform!  As a result, we consider ourselves to be a world-class cybersecurity firm.  However, you may ask, "What makes SOCSoter a great partner?"
Partnering with MSPs
SOCSoter enables MSPs to offer comprehensive cybersecurity to their SMB clients.   For this reason, we know our services have to be affordable!  SOCSoter's sole focus is serving small businesses.  As a result, MSPs won't find a better partner in the Channel!
ASSET MANAGEMENT REVOLUTION!
Managed Service Providers have a lot to watch:  system performance, patches and updates, device upgrades, asset management and much more.  This just covers the devices that are supposed to be on the network.  What about the other ones?  The ones that don't belong?
The Internet of Things (IoT) introduces a lot of opportunities for malicious code to move around a network.  Internet-enabled devices that live in the "shadows" of the network, but manage to connect to it like appliances, TVs, personal devices, etc., provide ample opportunity for an attacker to infect the entire network.
This proliferation of both on and off-network devices in a client's workspace also creates a major security and compliance concern–especially those devices that can't install an agent (e.g. the internet-enabled refrigerator in the break room).
Features and Benefits
A network map provides visibility to ALL devices on the network and how they are connected; allowing you to determine if they belong or not
Discover which devices are "talking" to each other, what types of devices they are and their IP addresses
Each pinpoint on the network map can be moved and manipulated to give a clear view of each asset and provides a drill down with additional information
The Asset Management feature enables MSPs to better deliver on critical compliance requirements
The real-time capability of our Asset Management feature will elevate your incident response efforts and enable a new level of contact tracing ability
Respond to anomalies as they happen, not after!
SOCSoter Adds New CISA Indicators of Compromise to Managed Cloud SIEM Platform
In response to Indicators of Compromise (IoC) identified in the recent SolarWinds/Microsoft 365 breach, SOCSoter has implemented these IoCs into its Managed Cloud SIEM cloud monitoring tool. While the indicators found in the Cybersecurity and Infrastructure Security Agency (CISA) tool are helpful as a handy status check, it only provides a historical view of the environment from a forensic perspective.
By ensuring these same CISA controls are in place in the Managed Cloud SIEM (MCS), SOCSoter is ready to provide continuous coverage on malicious activity in the M365/Azure ecosystem. The "always on" monitoring of the Managed Cloud SIEM, coupled with the insights provided by CISA, goes a long way to enhance the protection of organizations employing M365/Azure.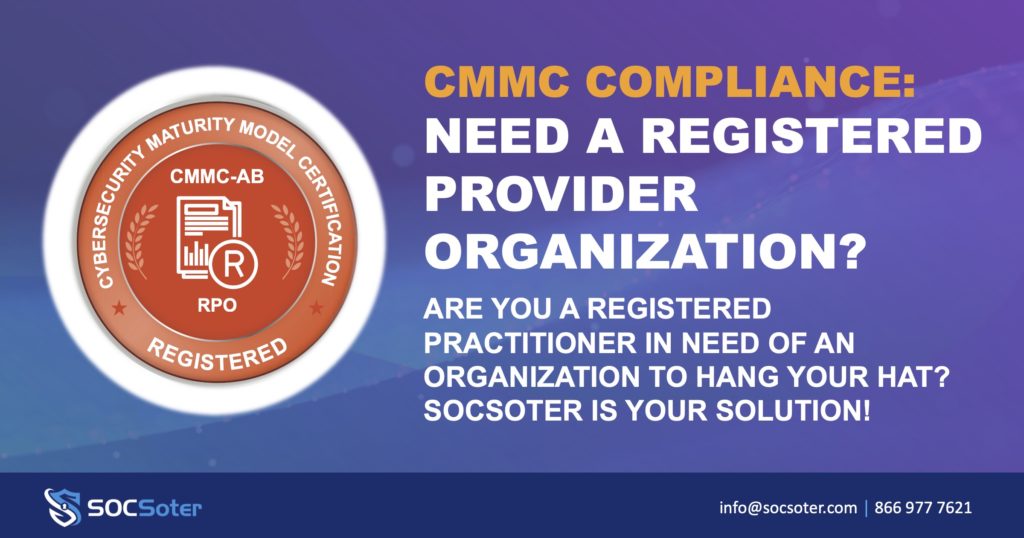 SOCSoter Launches Cybersecurity Maturity Model Certification (CMMC) Preparation Campaign
SOCSoter has years of regulatory compliance expertise.  Since its inception, SOCSoter has been helping SMBs navigate and comply with all kinds of industry regulations. For example, HIPAA, FINRA, GDPR, NIST 800-53, NIST 800-171 and PCI, to name a few.  The new CMMC framework is no exception!
Now that CMMC is upon us, many service providers need assistance getting their clients ready.  SOCSoter can help reduce the potential interruption caused by these regulations!  Some MSPs may even be required to be compliant themselves as third-party vendors.
SOCSoter Can Help
SOCSoter has been carefully monitoring each development as CMMC has unfolded.  In fact, we are already actively advising and prepping our partners.  What is more, SOCSoter provides additional benefit because we offer the SIEM, logging and reporting that the CMMC regulations require.
Do you or your clients need of additional, easy-to-understand information about CMMC?  We encourage you to check out our page dedicated to CMMC preparations!
Eric Pinto and SOCSoter Partner, Tim Weber of ADNET Technologies on CompTIA's "The Dr. Is In" Video Series
ChannelPro Network On SOCSoter's Recent Developments
Read:  ChannelPro Network:  SOCSoter's Year of Redefinition Reaches Major Milestone
SOCSoter's NEW Managed Cloud SIEM!
Read:  SOCSoter Introduces Managed Cloud SIEM Platform for MSP Partners (MSSP Alert 8/12/20)
New Product:  SOCSoter Managed Cloud SIEM Landing Page
Press Release – SOCSoter Managed Cloud SIEM Launch
Press Release – SOCSoter Announces Microsoft 365 API Integration for Managed Cloud SIEM Platform 
M365 API Integration for Managed Cloud SIEM featured in ENX Magazine
M365 API Integration for Managed Cloud SIEM featured on SMBNation.com
M365 API Integration Offers Enhanced Solution for CISA Supply Chain Detection Tool Indicators of Compromise (MSSP Alert 1/25/21)
SOCSoter joins the MSP Initiative's "Channel Strong:  Positive Vibes Tour"!
The MSP Initiative Channel Strong Positive Vibes Tour
Read:  Channel Reimagines Physical Events, Looking To Reopen Slowly.  (Forrester)
ChannelStrong Road Trip:  Next City Is… (ChannelE2E)
Listen:  Joel Zaidspiner of  ChannelPro Network Recaps the Channel Strong Tour 
Bringing Enterprise-level Cybersecurity To SMBs With Eric Pinto of SOCSoter
Listen:  AST Cybersecurity Podcast 7/28/20
SOCSoter's new look and updated offerings!
SOCSoter Reimagined Press Release